Havana's eternal lover
Eusebio Leal Spengler, historian of the Cuban capital, talks about the city that has merited his lasting loyalty
---
1 de junio de 2017 - Taken from Granma
As Argentine writer Jorge Luis Borges would say of his own life, Eusebio Leal Spengler believes that his life, in terms of poverty and wealth, is equal to that of God and all men. He is one of the most brilliant human beings to have been born in Cuba, and states that he is a child of his time and as such, he has a mountain of memories.
The same memories that make remembering "perhaps the greatest privilege of our species." Those that remind him how he became a Doctor of Historical Sciences at the University of Havana. Those that explain his self-taught education and all the honors he has been awarded since turning 60. "My last school activity was in the last grade of elementary school. As I had an eventful adolescence and youth, I became a high school and university graduate through exams," the specialist in Archeology recalls.
His memories keep him from forgetting that all he has is well earned. Among these are his postgraduate studies in Italy, his master's degree in Latin American, Caribbean and Cuban Studies, and his responsibilities as a deputy of the Cuban Parliament, United Nations Goodwill Ambassador, and as director of the Museum of the City of Havana.
Then there are the memories that saw him take on the restoration of the former Palacio de los Capitanes Generales (Palace of the Captain-Generals), the Gobierno de la Ciudad (City Government building), the San Carlos de La Cabaña Fortress, and the Tres Reyes del Morro Castle. Also the works that resulted in the ancient walls and fortification system for the defense of Havana being declared a UNESCO World Heritage Site.
The memories that saw him become Havana City Historian, in charge of the network of Offices of the City Historian and Conservator of the patrimonial cities of Cuba, and Honorary President of the Economic Society of the Friends of the Country. Those that saw him write a dozen books, essays, prologues, and articles on history, art, restoration, and other topics. Those regarding his excellent relations with important personalities, organizations, and institutions of an educational, cultural, or scientific nature across the globe.
Referring to the development of tourism as not only an economic, but a cultural phenomenon, Leal – who always speaks as a father speaks to his child, clearly and unhurriedly – states that when a people loses memory, they have lost everything. Hence the importance of restoration, of awareness that only with the necessary will can things be achieved, of understanding that in a hotel, "from the waiter to the receptionist, they project an image that is not only their own image, but that of the country."
According to the historian: "No development process that disregards culture can thrive. What strikes me most about the island, particularly Havana and its Historic Center, and the network of heritage cities, is the accumulated flow of heritage in terms of memory and stones, traditions, which are one of the most interesting elements Cuba offers in the tourist field."
In other words, what is most significant is "that human movement that comes from everywhere to choose not only circumstantial paradises, beautiful sands, natural sites to be seen and preserved, but also a direct dialogue with Cubans and their creation, especially with Havana, which a great U.S. journalist called the American Rome."
This student of Emilio Roig notes that Havana will be 500 years old in 2019, and was among the first cities founded by European colonizers in the "New World." In Cuba, Havana was only preceded by cities such as Asunción de Baracoa and San Salvador del Bayamo, which are national heritage sites. In addition, the Cuban capital was founded following those that Christopher Columbus established in Hispaniola, where he symbolically built the first Hispanic settlement in the Antilles with the wreck of his ship.
Although he loves to talk about what is being done to conserve the cities of Cienfuegos, Sancti Spíritus, Camagüey, Bayamo, Santiago de Cuba, and Baracoa, Leal is most concerned with Havana, and the years required to demonstrate that the most valuable and attractive aspect of the island, along with its nature, is its beautiful cities and particularly "the mysterious, forbidden, sometimes for a long time inaccessible, Havana, that everyone who discovers it is captivated by, not only due to its architecture, but because it is a state of mind."
According to this expert, "Cuban culture has demonstrated a great pioneering role. There were precursors who fought to inscribe Cuban national heritage on the world map. It is impressive that such a small island has so many protected World Heritage Sites. There is Havana, which is a kind of platform that projects over the harbor, a beautiful place that opens up like a canal or a purse."
There is nothing more beautiful, states the dean of the Havana University College of San Gerónimo, than to witness how the people can practically dialogue with those who are aboard the deck of a cruise ship when it arrives in Havana, as if making a kind of entrance to Istanbul; or, as "Cuba is an island, floating in the sea like a ship, if we go out to the Malecon at night we will see Cubans facing the sea, sitting on the largest sofa that has ever been built, on a divan where they sing, talk, drink, because everything always came from the sea, the indigenous peoples, the Spanish, etc."
How did the idea of rethinking Havana in order to improve the city arise?
I have to say, frankly, that when we started working, few people believed in what we wanted to do. I was a Ministry of Tourism guide and they would call me and tell me: "A boat will arrive with a group of German pensioners"; another day, 'An important visitor will be staying at such and such a hotel, and you need to guide them.' I prepared to speak to each one and tried to conquer his or her heart, which is what a guide should do. In this effort, I worked with all the guides, who formed the Cuban school, established in a beautiful hotel that is located in the heart of Old Havana, the Sevilla. From there, we set out to tour that valley of interesting ruins that was the old part of Havana. I realized, as many of them also did, that by putting the work in, it could be changed.
I realized that it was not possible, in an inhabited city, to undertake a process of transformation without at the same time undertaking a social project. Thus the trade schools were born; infinite jobs were created. Back then there were only a few very prestigious hotels, such as the Inglaterra, the oldest in Havana, which were like burning flames of attraction, and were considered behind the times.
However, one had to have almost religious faith, and I have it, to make the restoration possible without everything becoming hotels. If I had been commissioned to make Havana Disneyland, it would have been easy. Making a small Latin American town urban would have been easy. The difficult thing was to integrate the school, the house, the community - to bring the people back to the tree under which the city was founded and say to them: Once again, from here, the rebirth of the city will begin."
Today we are making way for an immense number of people from all over the world who visit Havana. Ninety percent of those who travel to Cuba want to visit the capital and when they arrive they notice that the most interesting thing about the city, besides its buildings, is its people. They can come and go at any time of night, if this were not possible, it wouldn't be the lyrical vision of a living city.
When you go to Old Havana, you see a lot of cranes fixing up the old hotels where artists, writers, boxers, filmmakers, novelists, poets of all time, lived. You see a lot of new works and, together with these, people are also developing an interesting life project, which was the result of a very complicated process. Getting so many people to agree is always tremendous. Many found, but few persevere. The important thing is to persevere. That was our saving doctrine and that's how we managed to get the hotels to coexist with the theater, the school, the house.
When did the restoration of Havana really begin to take shape?
In 1995, Fidel, who I always recall with gratitude, invited me to accompany him to Cartagena de Indias, a beautiful and sister city of Havana, which was also part of a Spanish sea, completely protected by the great Italian military engineers who, in the service of the Spanish crown, fortified Veracruz, Portobello, Cartagena, and Havana.
As we flew over Colombian territory, the Comandante en Jefe asked me what we could do for Havana, where in 1967 the works on the Plaza de Armas had begun. I told him: "Consolidate the principle of authority and draw up a master plan, which allows us to anticipate what is happening today, what will happen tomorrow, after and beyond us. Do not let this become dead letter, but public awareness."
Bold decisions were needed. The Hotel Gran Manzana, for example, recently opened, was built over the site where the city wall appeared, as determined by archaeological studies. At the entrance to the Plaza de La Catedral, the city wall is also buried and alongside it, the Palacio del Arzobispo. When that street was dismantled, a nearby path was left open so that the Archbishop could enter his residence. That ruinous slum quarter suddenly became the beautiful city, and the most beautiful thing is that it is inhabited by entire families. These same families have been integrated into our development project. They have given it valor, and a movement has resulted that makes Havana a better place.
Plaza Vieja, for example, was a car park and had to be destroyed in order to be rebuilt. But there was a school, with 500 elementary school students, who could not bear the noise that was made during the execution of the work. The plan was to conduct an implosion in a single day, but that would have affected the homes of locals. It had to be done by hand and that made more noise. At that moment I proposed to the school principal that a classroom be placed in each restored building, while the Plaza was being rearranged. The monstrous noise was what caused this type of classroom to appear, which still remain today. That is why every passing tourist can see the children in their classrooms, ask them: "How you doing, how are you," and keep walking.
What has kept you for so long at the forefront of this extensive work?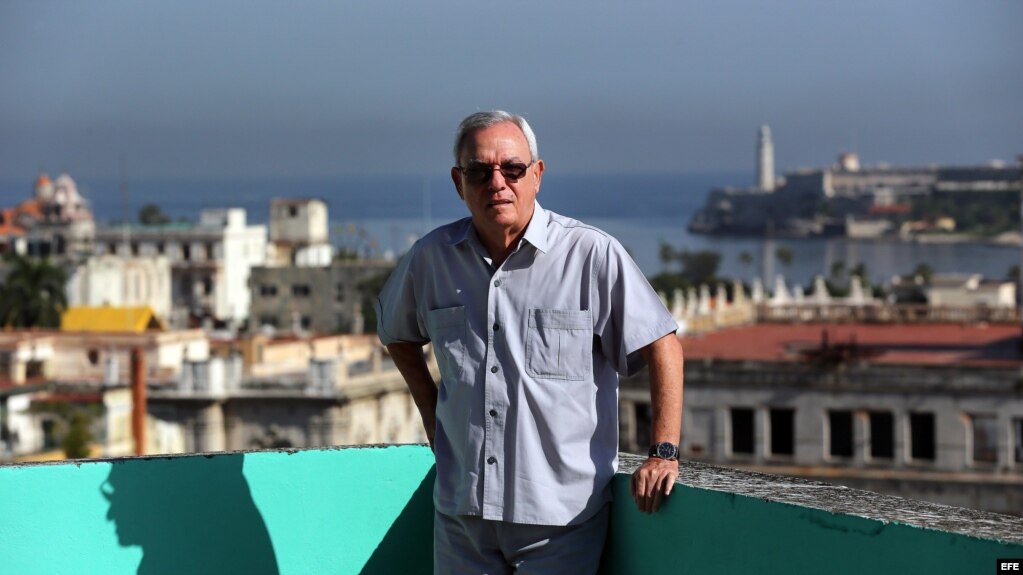 Love. You have to fall in love. I say that I have an eternal lover, and she's called Havana. Frankly, I have not been short of others (he smiles), but my real marriage is with Cuba and with Havana. That marriage is unending. I have devoted my whole life to it. I created a character, wearing a kind of uniform, in a blue shirt, seven days a week.
Something that always pleases me is my relationship with the people. I go down the street and a lady tells me a secret, another says: "Thank you for what you have done for the city," and another who comes along sweating gives me a hug. Based on that permanent dialogue, it is possible to walk calmly and see how things flourish and rise.
However, if Napoleon said that to win the war required money, money, and more money, also needed are leadership, willpower, and perseverance. This has cost me dear because the character I spoke of does not let me live. He does not allow me a private life. He does not give me time off. One day I decided to ask forgiveness of my four children, who are scattered throughout the world, because I have devoted little time to them. A passion took time from my life. But they have forgiven me and always come back looking for their dad.
I do not have an agenda because you run the risk of losing everything that is written in it. Every Friday afternoon I am handed a paper which is like a road map, with my obligations, and I complain about it. I try to seek brief moments in the day when I can do what I want, but it is very difficult, almost impossible.
It is very good to be Eusebio Leal in the morning, the director at noon, the historian in the afternoon and the father at some time of the day. The worst part is when they call me grandfather and I understand that time passed and passed, as José Martí said. The fact is that I grew old and that is an insufferable tragedy, especially when the soul is young. There are men who are like sheep, who are accustomed to the shepherd's staff, but not me, I have always had a young rebel within me, a man loyal to Havana.
For me, utopia is the dream of making things more beautiful for everyone, an ivory tower that must be hoisted over a sound economic base, in order not to become a fantasy. To carry out a tourism project, a project that moves people to visit Cuba, should always invite people to get to know Havana in depth, to go beyond academic settings, to the markets, the cemeteries, to see how people act, how they move, what they think. Havana will reach its 500th anniversary and on that day, if I am still at the foot of the tree, I will too. I represent a multitude of people. Eusebio Leal is the pseudonym of a madness that is called Cuba.